Plan # 112711

Narrow ranch home
1181 total square feet
Slab Design
32'-8" x 51'-8" O.S. dimensions
Siding exterior
Artist's Concept
Designed to fit a small narrow lot, it incorporates features found in much more expensive homes. Features like cathedral ceilings, a window seat in the dining room, and plant shelves above the kitchen cabinets. Built on a slab for economical contruction, this one is a great starter home!
---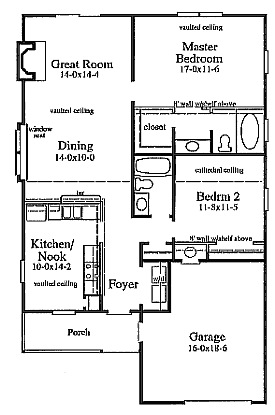 First Floor Plan
Plans © 1991 Residential Designs
---
Next Plan • List All Plans • Home Page • Order Form
Adlines • Links

Thanks for visiting the Residential Designs WWW server.
This page, and all contents, are Copyright © 1995 by DeWayne Epley. Kennesaw, Georgia, USA.

This web site has been published by Adlines.