Plan # 111614

Narrow lot-1 story home
1468 total square feet
Slab design
30'-0" x 65'-0" O.S. dimensions
Siding exterior
Artist's Concept
Designed for a narrow lot, this 1468 s.f. house features vaulted ceilings, plant shelves and an open air Atrium. Built on a slab, it's inexpensive, but dramatic, for a small home! 3 bedrooms and a 2 car garage make this a great starter home or one to retire in.
---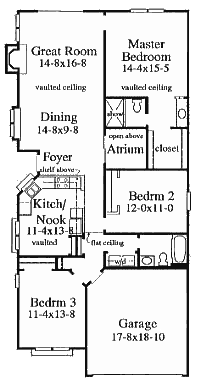 First Floor Plan
Plans © 1991 Residential Designs
---
Next Plan || Home Page || Adlines || My Favorite Links || Order Form
Thanks for visiting the Residential Designs WWW server.
This page, and all contents, are Copyright (C) 1995 by DeWayne Epley. Kennesaw, Georgia, USA.

This web site has been published by Adlines.