Plan # 221318

Country ranch home
1884 total square feet
Full Basement
62'-8" x 46'-0" O.S. dimensions
Siding & stone exterior
Artist's Concept
A nifty little Country style ranch home. An enormous Great Room with a masonry fireplace is a place for the family and guest alike. 3 bedroom, with the Master Suite separated for privacy. Add a rocking chair to the front porch and its time to sip some lemonade with the neighbors !
---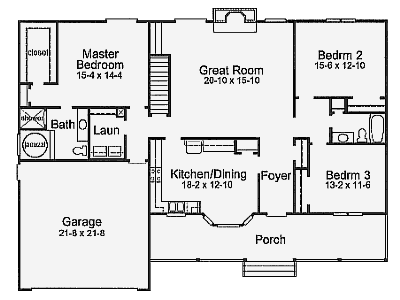 Main Floor Plan
Plans © 1991 Residential Designs
---
Next Plan • List All Plans • Home Page • Order Form
Adlines • Links

Thanks for visiting the Residential Designs WWW server.
This page, and all contents, are Copyright © 1995 by DeWayne Epley. Kennesaw, Georgia, USA.

This web site has been published by Adlines.