---
Owner Dave Bogi
Phone: 616-850-0050
Fax: 616-850-0212
E-Mail: dkbogi@novagate.com
1967 Corvette Sting Ray
Restored 1992, numbers match, history doc., automatic trans, air conditioning, tinted windows, speed alert, power windows and steering, original red line tires with DC 6" rally wheels, original clear floor mats, 61,000 original miles, 327/300, AM/FM radio, exterior Elkhart Blue, interior Special Order White on Black, new (unused) black front end bra, "Omni Bag" for storage, cloth dust cover and much more. Excellent Condition! Don't Let This One Get By You!
Price $45,500.00
---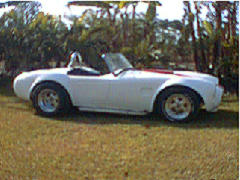 1965 COBRA replica
Car is new (less than 1000 miles). Powered by Chevy 350 with 350 automatic. Very well done car that drives great and is very fast. Car is in Hawaii and I can help arrange shipping. E-mail me and I'll send pictures. Crzn@shaka.com
---
1965 Cadillac Fleetwood
4 door vinyl top, original paint green, garage kept nice clean auto, Arizona car very little rust, running order, mileage on speedometer reading 65,000, 429 engine runs nice.
$3,000.00 for more info contact Andy E-mail linand@ibm.net

* Private Party Resale
---
SOLD! 68 Pontiac Firebird
Black, 400 engine, 80,000 miles on a rebuilt. runs excellent, lots of power. needs the finishing touches to complete its restoration. this car in perfect excellent condition is valued at $14,200.00 in the N.A.D.A. official guide.
It's definetly worth putting a few bucks into!

I'm just asking $2,300.00. if interested please e-mail me at
mish37@bellatlantic.net.
---
Auto Mall || Home Page || New Cars || Used Cars || New Trucks
Used Trucks || Antique Cars || Service/Repair || Parts
---
comments can be made to: Master Web Designer@adlines.com

Thanks for visiting the Adlines, LLC WWW server.
This page, and all contents, are Copyright © 1995 by Adlines, LLC Kennesaw, Georgia, USA.

This web site has been published by Adlines, LLC.